VIP Security
"KMG-Security" LLP provides the services on protection of life and health of the individuals (personal protection), including: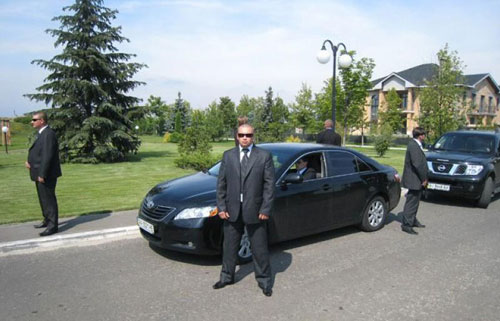 organization and implementation of protection of the client;
provision of personal protection of the individuals (heads of domestic and foreign companies and members of their families)
reception, security and safety, protection of life and health of members of the various delegations, artists and creative artists (including during their movement) in the territory of the Republic;
ensuring safety of protected persons during cultural and entertainment events (concerts, public speaking, presentations, exhibitions, sporting events, corporate events, etc.)
escort of protected persons in the car
provision of professionally trained drivers
safety inspection of routes used by the client ;
safety inspection of places of permanent residence;
monitoring of changes of surroundings around the places of permanent residence of the client
security inspection of single destination places;
limitation of access to the protected person;
checking of persons receiving access to the client
protection of elite apartment houses, cottages, etc.;
consulting the clients on issues of protection against unlawful encroachments and development of recommendations on provision of a personal safety, safety of property and business.
Your safety is provided by:
The employees selected from a narrow range of specialists of elite special security agencies of the Republic of Kazakhstan, who have undergone training at anti-terror and personal security courses in Kazakhstan, Russia, Ukraine, Israel, Czech Republic, England, Germany and the United States.
They apply their knowledge on provision of internal security, personal safety and protection of the facilities as well as use of weapons and special tactics on daily basis and they are highly qualified specialists - bodyguards.
We create a private security in accordance with international techniques and years of practical experience that fully meets the current conditions in our country and abroad.
We were entrusted to ensure their safety