Semser-Ort Sondіrushі" LLP
"Semser Ort sondіrushі"LLP - nongovernmental fire service, carrying out its activity since 2001 being a successor of the fire service "Semser" JSC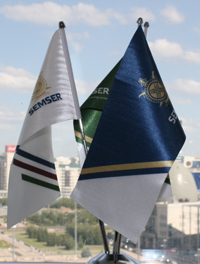 "Semser - Ort sondіrushі" LLP provides the following range of services:
fire-fighting;
protection of objects from the fires;
organization of fire prevention activities;
carrying out of priority rescue operations related to fire fighting;
engineering and technical services, including design of safety systems, their assembly and installation, maintenance and staff training;
priority rescue works on elimination of consequences of emergency situations:

oil spill response;
gas rescue work;
elimination of road accidents;
works on the heights;
work in a confined space..
The main volume of services are provided to the organizations specializing in the transportation of oil, gas production, storage and sale of petroleum products, energy companies and other sectors of the economy.
"Semser - Ort sondіrushі" LLP has all the licenses necessary for its operations, has been certified for compliance with the international standards ISO 9001:2008 and OHSAS 18001:2007, the state standard ST RK ISO 9001:2009.
Go to the website "Semser - Ort sondіrushі" LLP (www.semseros.kz)
We were entrusted to ensure their safety